Amusement parks. A place we all know and love, where people have fun and enjoy themselves. In spite of this, evidently some parks are better or worse than others. Here are the top 5 amusement parks for the family or the thrill seekers in your life.

1: Cedar Point.
Cedar Point, the flagship park of the Cedar Fair amusement company is considered the best out of 12 operating locations in the chain. In total, the Point has 364 acres of land, with only 50 of those being undeveloped. The park, which is located in Sandusky, Ohio, contains a total of 17 roller coasters, 11 of which broke records when they first opened, 17 thrill rides, 9 family rides, and 2 water rides. Because of this diverse selection, Cedar Point has been dubbed by fans and media to be the roller coaster capital of the world.
2: Magic Mountain
One of many Six Flags parks, the park is the favorite in the chain out of 21 scattered across the world. Six Flags Magic Mountain, located in Valencia, California, is one of Cedar Point's largest competitors for the title of best amusement park in the world. With a total of 19 roller coasters, the most out of any park in the world, this park features many thrilling rides such as Superman: Escape From Krypton, and Full Throttle, while giving guests the option for a more family-friendly area like Bugs Bunny World.

3: Disneyland Park / California's Adventure
Disneyland, while more of a theme park than an amusement park, can still be a thriller but still allows for family bonding time. This duo of parks, which is located in Anaheim, California, is a park many crave to go to. The ride selection varies from gentle cups rides to the Tower of Terror, now called Guardians of the Galaxy: Mission Breakout. Kids can still be comfortable in this family centered park. The thing about Disneyland Resort is that it is situated right next to California's Adventure! When you're done for the day in Disney, you can make your way over to thrillers like The Incredicoaster, which provides a powerful and intense launch. Food selections from this park are also great, providing scrumptious snacks and delicious dinners throughout the park.
4: Carowinds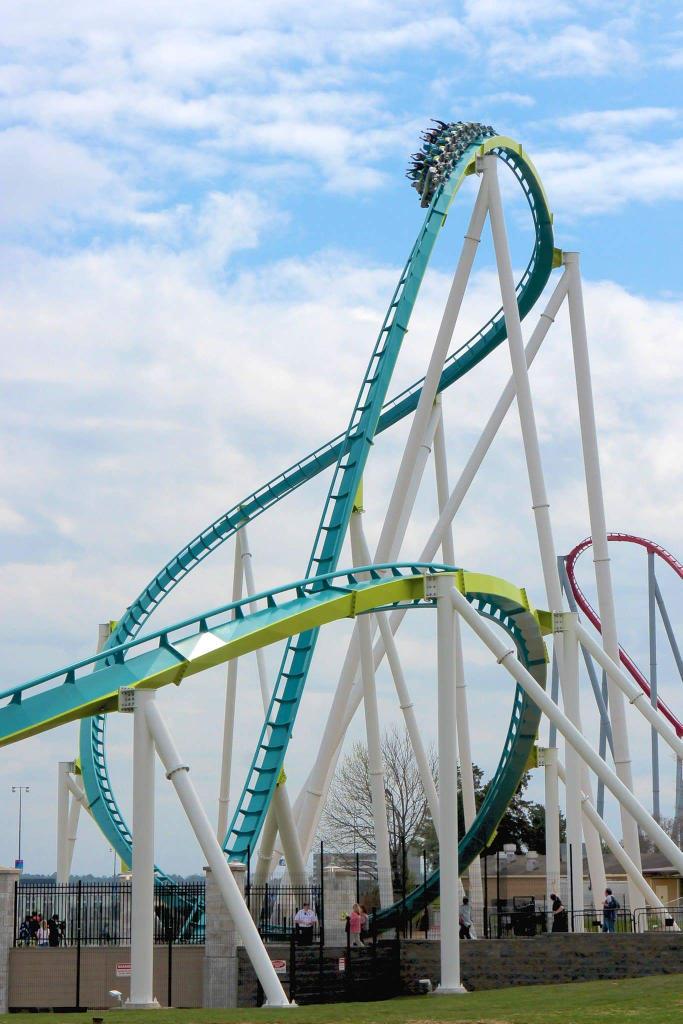 Another one of Cedar Fair's highly regarded parks, Carowinds is definitely the thrill seekers zone. Composed mainly of thrill rides such as Fury 325, Afterburn, and Intimidator, the park has many different choices of intensity to choose from. Ranked from 1 to 5 on a thrill scale, 11 of 43 attractions are placed at a 5. Despite the intimidating (ha) feel to the park, family rides are also available. Overall, the park feels well-balanced and is a good fit for most families and friends.
5: PortAventura/Ferrari Land
Like Disney/California's Adventure, this park has two in one. Ferrari Land is located inside of PortAventura, which in turn is in Catalonia, Spain. Ferrari Land is home to one of only a handful of giga coasters, Red Force. PortAventura has a large variety of rides as well, from water rides to hyper coasters. Each of the parks has something to offer, and Ferrari Land even has a kids version of Red Force! The great thing about both of the parks is how welcoming they are to kids, while also maintaining the statistics of a thrilling amusement park.
Honorable Mentions:
Europa Park: Rust, Germany
Six Flags Great Adventure: Jackson, New Jersey
Nagashima Spa Land: Kuwana, Mie, Japan
Now that you know about the different theme parks, go out there and have some fun with friends and family!